Have you got the fidgets?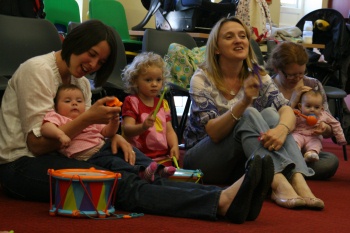 Fidgets is a fun singing & music group for pre-school children aged 0-5 and their parents/carers.
The informal sessions combine a mixture of new and traditional songs and rhymes incorporating actions, finger play, movement and lots to look at.
There is a varied selection of instruments for the children to play, although we do only get the intruments out for part of the session.
Every session ends with a cup of tea or coffee (and a chance to chat) for the grown-ups and a biscuit for the children. There's no need to book, just come along an join in the fun.
Navigation
Links